The time for conservation now! 10% of our profits are donated to global conservation efforts.
---
Captive Emotions Workshop


April 28, 2017 – April 30th, 2017

 Phoenix, Arizona

Only 5 Spots Left

 325. USD
.
.
.
---
Ultimate African Adventure Safari


May 31, 2017 – June 14, 2017

Windhoek, Namibia & Kasane, Botswana

 SOLD OUT

 8,950. USD
.
.
.
---
Summer Night's Dream Workshop


July 9, 2017 – July 18, 2017

 Reykjavík, Iceland

 Only 2 Spots Left

 5,950. USD
.
.
.
---
Wonders Of Alaska Workshop


September 12, 2017 – September 18, 2017

Lake Clark, Alaska

 SOLD OUT

 6,950. USD
.
.
.
---
Autumn Reflections Workshop


September 23, 2017 – September 30, 2017

 Lofoten, Norway

 Only 4 Spots Left

 4,950. USD
.
.
.
---
Visions Of Autumn Workshop


October 2, 2017 – October 11, 2017

Reykjavík, Iceland

6 Spots Available

 5,950. USD
.|
.
.
---
Seasons Of Sedona Workshop


October 26, 2017 – October 29, 2017

Sedona, Arizona

Only 4 Spots Left

 675. USD
.
.
.
---
Arctic Kingdom Workshop


February 4, 2018 – February 11, 2018

 Lofoten, Norway

 8 Spots Available

 4,950. USD
.
.
.
---
Winter Wonderland Workshop


February 13, 2018 – February 22, 2018

 Reykjavík, Iceland

 8 Spots Available

 5,950. USD
.
.
.
---
Wildflowers Of The Wild West


March 17, 2018 – March 18, 2018

 Phoenix, Arizona

 8 Spots Available

 425. USD
.
.
.
---
To receive priority notification on upcoming photography workshops, sign up for our mailing list by filling out the form in the footer of this page.
---
WHY TRAVEL WITH NATURE ODYSSEY WORLDWIDE?
We recognize that when planning your international travel for photography there are many options available to you. To that end we'd like to share what we believe sets us apart from the crowd. Our events are organized with nature photography in mind and catered to you, our guests. We provide superior nature photography workshops and safaris for every skill level, to every corner of the world. Our trips are attended by everyone from beginning photo enthusiasts to accomplished professionals. We strive to incorporate a diverse cultural experience for all our clients, specific to each destination. Extra care is invested into all stages of planning the itinerary to ensure an experience that is second to none. Every effort is made to plan exceptional meals and reserve accommodations you'll be excited to return to after a long day in the field.
A lot more goes into properly planning a photo workshop or safari than meets the eye. For example, if you're shooting the Northern Lights in Norway, you have to plan the itinerary according to rhythm of the tides, because a full moon will ruin the vibrance of the Aurora Borealis. Likewise if you're photographing a splashing Hippo calf on the Chobe River at dawn, your ideal camera settings might not be what you think. These days the number of Iceland summer photo tours options are as numerous as the horse population in that beautiful country. However, what many of these companies don't realize is that under the midnight sun the best photography happens just before and just after midnight. If you visit Iceland and are shooting at mid-day, in full sun, then you are missing out on the best opportunities. This kind of information is what distinguish the elite nature photography workshop operators from the rest, and ensures you get the very best images possible during your trip.
At Nature Odyssey Worldwide we excel in our knowledge of critical details. Our promise to you is that we'll meticulously attend to everything that concerns an international traveler, as well as the more subtle requirements of a nature photographer. Our all-inclusive packages take the worry and hassle out of your international travel plans. All workshops and safaris are planned to flow seamlessly, limiting time lost in travel or transfers and maximizing every photographic opportunity. Itineraries are intentionally flexible so that we can take advantage of unplanned photographic opportunities as they arise. Expert pro photographers that guide you on our trips aren't just along to pad their portfolios. Regardless of your skill level we're at your side every step and during each waking hour with the sole focus of maximizing your results and ensuring a magical experience. You'll be provided professional advice both in the field and the digital darkroom, resulting in a stunning portfolio upon completion of your trip with us. Together we'll capture the world. Where do you want to go?
Still have questions? Inquire via the Contact Page
---
Positive feedback from my clients is the true measure of success.
Below are some of the responses received from satisfied participants.
---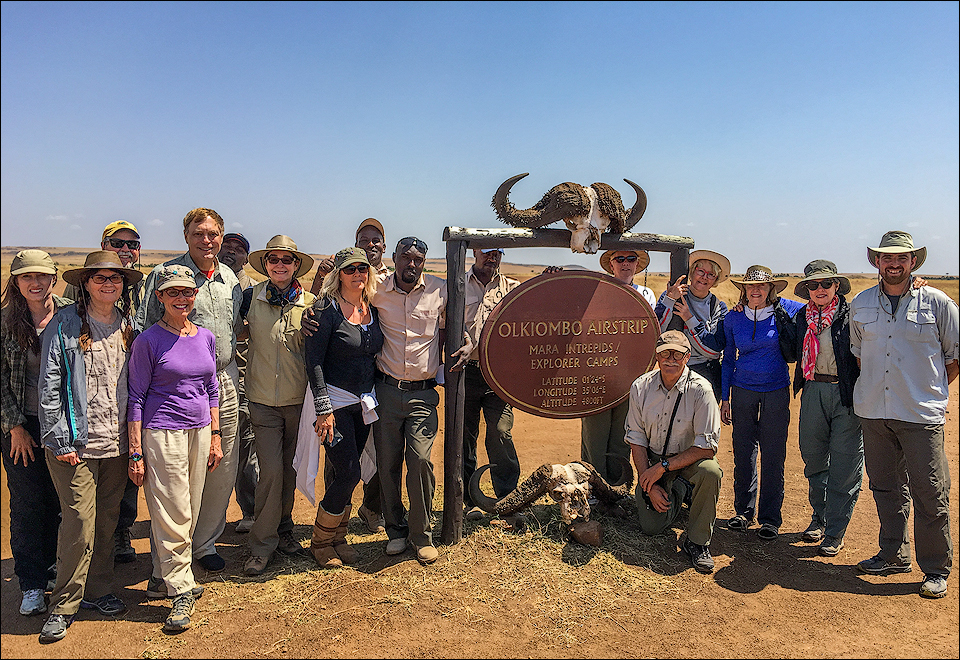 Nathaniel Smalley on Safari with clients in Africa.
---
 "I have travelled to many countries around the world but I have to say that Norway (Lofoten Islands) was one of the most spectacular locations I have ever photographed. Nathaniel did an amazing job setting up our lodging, meals and transportation. The photo tour was packed with excursions to beautiful beaches, pristine waterfalls, quaint villages and yes, we were quite lucky to see the northern lights on three occasions! At every location, Nathaniel made sure that we had the right lens and filter for the scene and also checked our camera settings for correct exposure. In the evenings, we would spend hours on reviewing our photos, discussing composition and getting suggestions from Nathaniel for photo editing with Lightroom & Photoshop. All in all a photographers dream!!!"
~ Norm V. |  Massachusetts, USA
---
"I had the pleasure of participating in an African safari with Nathaniel. I came away with amazing images, new skills, and a new friend and mentor in Nathaniel. He is forever upbeat and cheerful, and has a deep love for nature and a willingness to share his considerable talents with others."
~ Larry K. | California, USA
---
"I traveled with Nathaniel in September to the Masai Mara. My experience shooting wildlife is limited so I was in learning mode. Nathaniel was unfailingly helpful, generous with his time and open to other perspectives and shooting styles. We had a lot of fun and many laughs. I look forward to my next trip with him."
~ Judith F. | Canada
---
"In 2016 I attended an African Safari with Nathaniel, he listens to his clients and goes out of his way to accommodate their special requests.  He is also very helpful in demonstrating his processing workflow and the different types of processing tools he uses."
~ Gillian S. | Maryland, USA
---
"I recently returned from an African Migration Safari with Nathaniel Smalley in the Masai Mara. A fantastic trip. My wife and I are still editing madly. We're not wildlife photographers so we found the trip challenging, but learned an amazing amount from Nathaniel. We would highly recommend traveling with him!"
~ Keith P. | Canada
---
"We experienced a wonderful safari in Kenya with Nathaniel in 2016. He offered excellent teaching and leadership throughout the trip!"
~ Anne C. | Florida, USA
---
"This was my first safari and I felt so fortunate to have Nathaniel as our trip leader. He is a patient, knowledgeable, talented, and enthusiastic photographer. I appreciated his on-the-fly advice and his editing tips as well as good humor. He is able to work with all levels of photographers. I look forward to future trips with NOW Tours!"
~ Mindy R. | California, USA
---
"In February I thought about contacting you and thanking you for the way you handled your photo tour group on Lofoten. I don't know if you knew, but we were leading tours there at the same time. Often when two guided groups get on the same beach, it is almost like two football supporter groups of two different teams meet. Shouting at each other where they can and cannot stand. But when our groups were at a location at the same time, it was no problem. You kept your eye on where your participants went and warned them when they walked into a shot before one of us could say anything. So a big thank you for that! Great to see that it can go like that."
~ Floris S. | Norway
---
"I signed up for the Lofoten tour led by Nathaniel on the spur of a moment, it fitted well with my remaining holiday dates at work and I am very pleased that I did. During the trip Nathaniel was great company and took us to most of the iconic locations in Lofoten for both sunrise and sunset shoots as well as Aurora hunting trips when conditions were suitable . The choice and location of the accommodations were great and the whole trip was a pleasure to be part of. My thanks to Nathaniel Smalley for all the hard work and countless hundreds of miles behind the wheel during the week. An excellent trip."
~ Shaun Y. | Great Britain
---
"It was wonderful to explore such a remarkable place as Lofoten on one of Nathaniel's tours. I found him to be a professional, friendly, positive, creative, fun-loving and well-organized tour leader and photographer. I had a great time, learned a lot and made new friends. I highly recommend these tours for anyone with a passion for photographing stunning landscapes. Thanks Nathaniel!"
~ Arwen D. | Tasmania
---
"It was indeed an memorable trip to the northern most part of the world. This was my first trip to Norway and longest stay in a colder climate. On the first night of the tour we were fortunate to see the Aurora Borealis light show, (it had long been my dream to see the lights and capture them). I was so excited and felt like I was in heaven. Nathaniel was always energetic and ready to explore new locations. He was exceptionally adept at multi-tasking, driving, having meals in between, managing accommodations, business emails etc. while also ensuring all participants were comfortable in their rooms, vehicle and of course while shooting. Most importantly what I observed was, on a daily basis Nathaniel managed to be connected to his family and particularly his kids. It was great to have the opportunity to travel with him, I learned a lot."
~ Kiran B. | India
---
"My wife and I had a great time in Iceland and we definitely made the right choice to go with Nathaniel, not only for his insights and photographic knowledge, but also for his kindness and caring about his participants. I will  forever treasure the photographs and life experiences from this Iceland tour!!!"
~ Gene N. | New Jersey, USA
---
"Wow, what a place!! I was delighted to be able to join one of Nathaniel's tours for my first trip to Iceland. We got to photograph a variety of incredible places, including glaciers, waterfalls, geysers and the coastline, in the amazing Arctic light. Nathaniel is a well-organized, fun, creative and professional tour leader whose tours I highly recommend. Thanks Nathaniel!"
~ Arwen D. | Tasmania
---
"Despite challenging weather conditions we had many chances to create beautiful landscape photo during winter tour. It was really good tour, I felt lucky to meet all other lovely members. Nathaniel was really good to us. Thank you again."
~ Keiko S. | Japan.

---