Arizona Nature Photography
LEARN • EXPERIENCE • CREATE
.
Whether your interest is in a detailed macro world, the action of wildlife photography, shooting dramatic night skies or sweeping landscapes, we offer it all. Our workshops provide you the best opportunities to learn each facet of nature photography in a supportive, educational environment where you'll share memorable experiences, create powerful imagery and grow as a photographer. We cover all aspects of nature photography in each workshop including field techniques, camera settings, composition, processing and critique sessions. Workshops sizes are deliberately kept small to ensure plenty of one-on-one time with the instructor and to be certain your questions are answered. All skill levels are welcome to our events, from those just discovering nature photography, to seasoned professionals and anyone in between. Nature Photography Arizona works in partnership with local conservation organizations, encouraging the very highest standards of nature photography ethics from both our participants and instructors. Our constant goal is to help you produce the best images from stunning locations that you'll never forget.
Welcome to Arizona's nature photography community.
WORKSHOPS
UPCOMING  WORKSHOPS AND EVENTS  IN  ARIZONA
---
Mastering Macro Photo Workshop


February 16, 2018 – February 18, 2018

 Phoenix, Arizona

SOLD OUT! (Maximum 10 Participants)

 425. USD
.
.
.
---
Captive Wildlife Photo Workshop


March 9th, 2018 – March 11th, 2018

 Phoenix, Arizona

 Only 2 Spots Available! (Maximum 8 Participants)

 325. USD
.
.
.
---
Wildflowers Of The Wild West


March 16, 2018 – March 18th, 2018

Phoenix, Arizona

 Only 1 Spot Available! (Maximum 8 Participants)

 425. USD
.
.
.
---
Mastering Macro Photo Workshop


April 13, 2018 – April 15, 2018

 Phoenix, Arizona

10 Spots Available (Maximum 10 Participants)

 425. USD
.
.
.
---
Best Of The West Workshop

.
.
.
---
Seasons Of Sedona Workshop


October 25, 2018 – October 28, 2018

Sedona, Arizona

 8 Spots Available (Maximum 12 Participants)

 895. USD
.
.
.
---
NP|AZ Meetup Group


Various Dates

Arizona

Limited Spaces Available

 Based On Specific Event
.
.
.
---
NP|AZ Facebook Group


Every Day!

Arizona

Open To Arizona Photographers And Enthusiasts

 None
.
.
.
---
To receive priority notification on upcoming photography workshops, sign up for our mailing list by filling out the form in the footer of this page.
INSTRUCTOR
---
NATHANIEL SMALLEY
---
Nathaniel Smalley is a professional nature photographer based in Scottsdale, Arizona. Though he calls the American Southwest his home, he frequently is abroad leading photography workshops and safaris to a variety of international destinations. His study of photography began early in high school and he continues to explore the art form to this day. Through his images he strives to foster a real love and respect for the natural world by touching the heart of the viewer with its beauty. Whether sharing his knowledge at a workshop in Arizona or leading a photo tour in some forgotten corner of the world, Nathaniel strives to impart his ethical approach to nature photography to everyone. More than just another nature photographer, Nathaniel is also a passionate conservationist. He has done extensive work with various conservation and rehabilitation organizations over the last three decades, filling every role from a volunteer assisting injured birds and mammals, to board member. Nathaniel strives at all times to adhere to the highest standards of ethics in nature photography and avoid any of the cheap shortcuts that could in any way harm his subjects or the environment. For him the natural world is a sanctuary where he captures images of the living world and shares them with those who love and appreciate nature as he does.
Connect  with  Nathaniel  on:   Facebook | Instagram | Twitter | Google+
|  CREDENTIALS   &   PROFESSIONAL   ASSOCIATIONS
• 2015 – Present: Owner of Nature Odyssey Worldwide
• 2015 – 2018: Arizona Highways Photo Workshop Instructor
• 2015 – 2018: Himalayan Snow Leopard Tour Leader for Big Animals Expeditions – Ladakh, India
• 2014 – 2017: Ethics Committee Member for North American Nature Photography Association (NANPA)
• 2015 – 2017: Finalist Judge at Nature's Best Photography AFRICA
• 2015 – 2017: Judge for the popular photography site ViewBug.com
• 2015 – 2016: Presentation/Speaker Scheduling Committee for Digital Imaging Group
• 2015 – Speaker at Arizona Highways 30th Anniversary Symposium
• 2015: 'Keynote Speaker' invitation for Sedona Photofest 2015
• 2014 – Judge for Arizona State Fair Advance Photography Competition *(Sponsored by Arizona Highways)
• 2014 – Selected for the '100 Wonders of the World Exhibition' in St. Petersburg, Russia
• 2014 – Present: Sponsored by Naneu Camera Bags
• 2014 – Present: Nikon Pro Services Member
• 2013 – 2014: Audubon Arizona Central Leadership Council
• 2013 – 2014: Maricopa Audubon Board of Directors
• 2013 – Present: Audubon Arizona Featured Photographer
• 2013: Juror for Wildlife Photography Competition – 1650 Gallery Los Angeles, CA.
• 2012: Finalist at Stanford Birding Photographic Competition in Cape Town, South Africa
• 2012: Winner of 'Honorable Mention' in National Wildlife Federation Photo Competition
• 2012 – Present: U.S.F.W.S. Wildlife Educator & Bird Handler Certification
• 2010 – Present: Member of North American Nature Photography Association (NANPA)
• 2009 – 2012: Volunteer Liberty Wildlife Rehabilitation Facility
• 1996-1998: Board Member AE Howell Wildlife Conservation Center
• 1994: Cornell University – Lab of Ornithology Bird Biology Course
CALENDAR
PRIVATE GUIDING
---
PRIVATE GUIDING & INSTRUCTION
---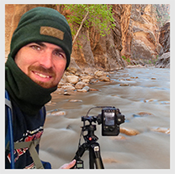 Whether you are a beginner who has never taken their camera off the auto setting, or an amateur with a sound understanding of nature photography basics, Nathaniel will work along side you and help you make the leap into a new realm of nature photography. Here you'll discover a host of creative possibilities, both in the field and the digital darkroom. Nathaniel focuses on creating an experience for you that will be both educational, informative and enjoyable. He makes every effort to ensure that your time together addresses all your questions. It is his goal that you take away the knowledge to create beautiful, compelling images and fond memories of time well spent.
WHAT TO EXPECT
Nathaniel has intimate knowledge of the best destinations in Arizona. Based on the availability of his schedule he offers private guiding and photography instruction. With private instruction the format can easily be tailored to your specific needs and you will learn during all phases of your time with Nathaniel. Either way you'll provided with guidance to technical aspects such as the secrets to strong composition; mastering depth of field for every situation; harnessing the light through exposure control; finding the correct color in the world of white balance; reading your histogram like a book; and how to maximize the capabilities of your equipment to get the results you want to see in your work. Nathaniel has built a portfolio showcasing images that span the wide spectrum of nature photography and not limit himself in a narrow, specialized category. So whether you want to shoot sweeping landscapes or detailed macro, wildlife or birds in flight, he has the experience in all areas to capture the image you want. That being said, all the technical know-how in the world doesn't help if you can't find alluring subjects. To this end Nathaniel will guide you to the best shooting locations at the right times, and provide decades of expertise, allowing you to get close to elusive wildlife. If you're looking for a professional nature photographer who is a location specialist and offers personalized, attentive instruction this is the best option.
HOW TO SCHEDULE
To sign up for one of Nathaniel's upcoming workshops or tours please click here. If you would like to book a time to shoot and work with Nathaniel during a private session, please email him via the form on the 'Contact' page. You can also call him directly if you have questions. Please provide your name, email address and phone number with any correspondence. Nathaniel will reply promptly to your inquiry so that you can determine a course of action best suited to your photographic interests, as well as discuss rates and availability. Should you have any specific questions feel free to include them in your email and he will be happy to address them in his response.
---
PRIVATE INSTRUCTION RATES
1 Participant:  $500/day per person
2 Participants: $350/day per person
3 Participants: $300/day per person
4 Participants: $250/day per person
(Payable by Credit Card via PayPal)..
* Pricing does not include any applicable travel fees, lodging, meals, or transportation expenses.
---
LIGHTROOM & PHOTOSHOP PROCESSING TUTORIALS
Nathaniel offers in depth processing tutorials via Skype covering his workflow and processing. During a tutorial you will be able to follow along through the process thanks to screen share technology. This will allow you to see what I'm doing during each step of my personal workflow from start to finish. I'll explain the process in detail and allow you to ask as any questions you may have. I tend to recommend starting with a two hour session, if you need more instruction we can schedule additional time. This service is great for a follow up tutorial, allowing me to review your processing work after our initial session and offer critique. Typically I will use my own RAW files for processing, however we can see about the possibility of utilizing your own as well. Afterward I'll provide you with a recorded a video of the tutorial and a Photoshop PSD of the files we worked on for you to follow along and practice with.
If you're interested in scheduling a tutorial or have any questions, please contact me. I live in Scottsdale, Arizona so sessions will be typically be scheduled during work hours for my respective time zone, however exceptions can be made to accommodate your needs.
*Each session is copyright protected and only for your personal education, it may not be distributed in any format.
---
PRIVATE PROCESSING TUTORIAL RATES
These lessons are available at a rate of $95 USD per hour
(Payable by Credit Card via PayPal).
MAP
---
WHERE TO SHOOT
---
Whether Arizona is your home or you're just visiting, this map will be a great resource in determining the location of your next shoot.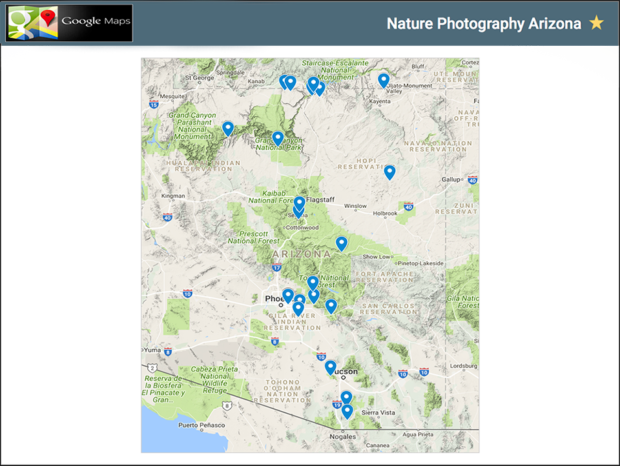 Feel free to contact us with other suggestions and we'll continue to update the map listings.
CONTACT US
---
NATURE PHOTOGRAPHY ARIZONA                                                                                                                                   Telephone (602) 770-3184
---
CONTACT US
---
ARIZONA'S RESOURCE FOR NATURE PHOTOGRAPHY