---
Positive feedback from my clients is the true measure of success.
Below are some of the responses received from satisfied participants.
---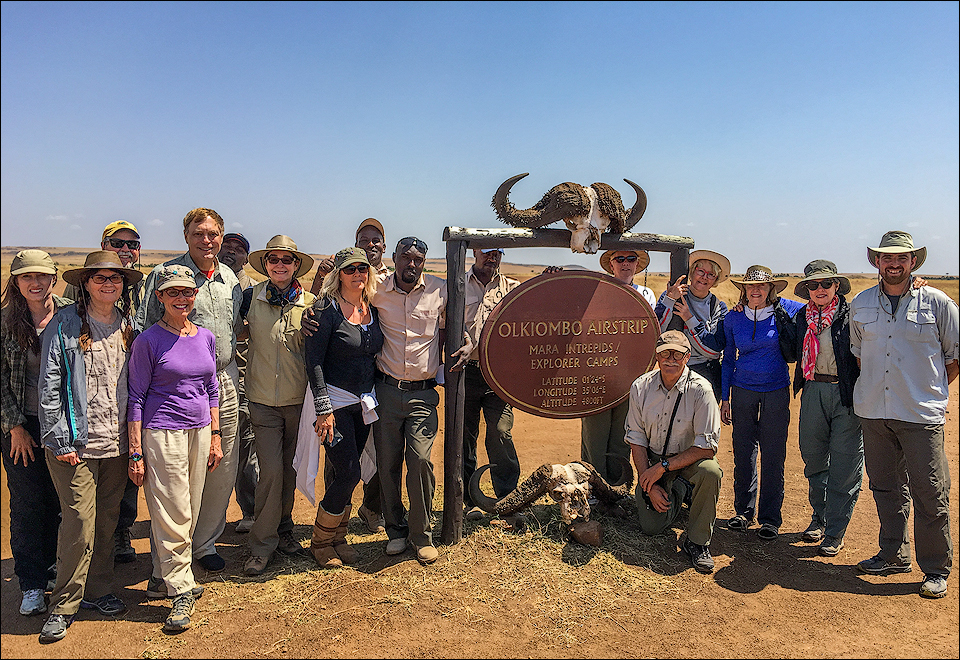 Nathaniel Smalley on Safari with clients in Africa.
---
Wonders of Alaska 2017 was my first workshop with Nathaniel, but I'm sure it won't be my last; he was as kind, caring and patient as he appears online. Nathaniel was extremely attentive during the entire workshop, he shared technical and artistic knowledge during shooting, spent time reviewing and editing files in the evenings so that we really learned as we went along, and were able to put the learning into practice while still on the workshop. The weather conditions were difficult at times, but Nathaniel's experience and attention to his students meant that the group learned how to work around suboptimal lighting and we all went home with great photographs! I love bears and this trip afforded us hours of watching every day, not the usual glimpse here and there that I was used to in Yellowstone, we even got to watch a mom nurse her two cubs! I couldn't have asked for more.
~ Jackie H. |  Texas, USA
---
The Bryce Canyon Workshop was a fantastic experience for both improving my photographic skills, but also enjoying the beautiful scenery at Bryce Canyon Nation Park. The trip was well organized including providing detailed pre-departure information. Accommodations were awesome and included a comfortable conference room to allow for instruction by Nathaniel as well a post-processing of our images. Nathaniel's instructions both at photo locations and during post-processing were excellent, providing ample personalized attention. Along with his experience and in-depth knowledge of both equipment and software my photographic skills both in capturing images and processing them greatly improved. I also appreciated his experience and knowledge on composition both in image capture as well as post processing. Photographic locations were plentiful and easily accessible at Bryce Canyon. The natural beauty at Bryce Canyon was just totally breathtaking and memorable especially looking down at the hoodoos while watching the sun bring life to the multitude of colors as well as listening to the wind blow through them. I would definitely take another workshop with Nathaniel and recommend that others strongly consider taking one of his workshops.
~ Allan P. |  Vermont, USA
---
I just returned from Nathaniel's Wonders of Alaska trip, he is a fantastic photo workshop leader. He is able to give his participants close attention which is so important on these trips. He is patient and takes the time to teach. He is kind and without attitude, which I have not found with other instructors. He makes sure to keep his trips small so he can ensure everyone is getting the personalized attention they need. He takes time to review pictures at the end of the day and to give feedback ensuring you are prepared for the next day. The photo book that he provides the participants of the trip is an added bonus! He makes everyone feel respected and welcome no matter what level of photographer they are. I really appreciated the effort and enjoyed reminiscing about the trip. The effort Nathaniel put forth for his guests did not go unnoticed! I highly recommend a workshop or safari with him.
~ Mindy R. |  California, USA
---
My wife and I know a little bit about Norway. She's Norwegian and grew up in the far north, above the Arctic Circle. I lived in Norway for several years before we moved, and moved again (long story). On a recent trip back to visit family, we decided to couple that with Nathaniel Smalley's photo workshop in the Lofoten Islands. Uff da, but that was a good decision! He took us to some absolutely stunning locations and is a very effective teacher of landscape photography – including how to edit the photos you take. He keeps his groups small so he can provide lots of individual attention and coaching. We stayed at nice places, ate well (get ready to appreciate pickled herring and sweet brown goat cheese) (or not), and were catered to night and day. Nathaniel is easygoing, good at problem-solving, and quick to make everyone feel comfortable. We were also lucky with the weather on our trip. I don't know if he can deliver more of that, but we would recommend him to others without hesitation. We came away with great experiences and also some pretty darn good photographs!
~ Pete & Solvi H. |  Texas, USA
---
Despite having been an amateur photographer for over 30 years and having participated in numerous workshops over the last 13 years,​ I found Nathaniel's instruction to be very worthwhile. His gentle yet firm insistence that we work only with manual exposure settings and check the histograms from each image was a valuable reset for me. I had come to rely entirely upon automatic exposures settings but now I feel much more inclined to work exposures manually, which I am sure will result in better exposures with less issues with highlight losses. Nathaniel's style is founded with great competence yet tempered very nicely with humility and grace. Thanks Nathaniel!
~ Dean D. |  Colorado, USA
---
I recently participated in Nathaniel's 2017 Norway workshop. From the moment the workshop started, Nathaniel was completely engaged in ensuring our experience exceeded our expectations. Nathaniel's approach is very interactive and instructional. He readily shares technical and artistic expertise. He also ensures that each student has what they need to maximize the photo opportunities. From our top-notch lodging, food and access to many beautiful locations – logistically, everything was smooth and easy. From a photography perspective, we had excursions to many picturesque locations that included beautiful beaches, waterfalls and Norwegian villages. We were fortunate to be able to see and photograph one of the most intense Northern Lights in over fifteen years. Nathaniel confirmed that we were prepared, set up and ready to go to maximize the moments. During our non-photography time, we reviewed photos, post processing techniques, while learning new editing skills. In addition to the learning, Nathaniel is enjoyable to work with in the field. He's fun, easy going, while maintaining a high level of professionalism. I highly recommend Nathaniel's workshops!
~ Sheen W. |  Michigan, USA
---
"I have taken many workshops over the years and have found that maybe one third of the instructors to be excellent teachers. Nathaniel is in that category. He is very patient, has an artist's eye for composition, and an in depth knowledge of photographic technique. He spares no effort to make his trips as memorable as they could possibly be. Nathaniel's workshop exceeded my expectations. He is very thorough covering photography concepts, composition, and post processing technique. It truly elevated the impact of my images. I would take another workshop from him in a heartbeat. Thank you Nathaniel!"
~ Aurora O. |  Arizona, USA
---
"Nathaniel's workshop is one of the best I've ever taken. The trip was very well organized and with enough flexibility to modify our schedule to be at places when the light was beautiful and the crowds weren't there. With Iceland being such a popular destination, the 'must see' places get completely overrun with visitors. The times Nathaniel arranged for us to be at many of our spots was when we could capture images of these places looking pristine.
We also visited some more remote, off the beaten path locations, which I appreciated very much. Our accommodations were also good selections – from clean and comfortable to luxurious. I don't think I could have had a more enjoyable experience with any one else and gotten the amazing images I took on this trip. Nathaniel is also very helpful with all levels of photographers and I believe that everyone improved their skills in his workshop. I plan to take another workshop with Nathaniel."
~ Beverly H. |  California, USA
---
"I have travelled to many countries around the world but I have to say that Norway (Lofoten Islands) was one of the most spectacular locations I have ever photographed. Nathaniel did an amazing job setting up our lodging, meals and transportation. The photo tour was packed with excursions to beautiful beaches, pristine waterfalls, quaint villages and yes, we were quite lucky to see the northern lights on three occasions! At every location, Nathaniel made sure that we had the right lens and filter for the scene and also checked our camera settings for correct exposure. In the evenings, we would spend hours on reviewing our photos, discussing composition and getting suggestions from Nathaniel for photo editing with Lightroom & Photoshop. All in all a photographers dream!!!"
~ Norm V. |  Massachusetts, USA
---
"I was fortunate to be able to attend Nathaniel's Captive Emotions Workshop this spring. Nathaniel is a very talented photographer who is able to help you see situations in a different light to help you create more powerful images. He is extremely patient and makes sure each attendee in his workshop gets the attention they need in order to be successful. I definitely plan on attending more of his workshops in the future!"
~ Jackie C. |  Arizona, USA
---
"I had the pleasure of participating in an African safari with Nathaniel. I came away with amazing images, new skills, and a new friend and mentor in Nathaniel. He is forever upbeat and cheerful, and has a deep love for nature and a willingness to share his considerable talents with others."
~ Larry K. | California, USA
---
"Wildflower's Of The Wild West workshop was amazing! Thanks Nathaniel for all the hard work you did in scouting out the best places for wildflowers in the Arizona, it was such a great learning experience. Thank you for your help with not just the onsite shooting, but with Lightroom and Photoshop processing as well, it made for a complete experience in getting some great shots! It was awesome to get help with our individual camera settings too and utilize them to their best capability. Much appreciated! Off-roading and going up to the top of the mountain for sunset in your Jeep and seeing the herd of deer at the top was such a great bonus!!"
~ Bhavna G. |  Arizona, USA
---
"I traveled with Nathaniel in September to the Masai Mara. My experience shooting wildlife is limited so I was in learning mode. Nathaniel was unfailingly helpful, generous with his time and open to other perspectives and shooting styles. We had a lot of fun and many laughs. I look forward to my next trip with him."
~ Judith F. | Canada
---
"I have admired Nathaniel's work for years, and finally was able to attend his Captive Emotions Wildlife workshop here in Arizona. His talent behind the camera is equally matched by his teaching. Nathaniel is patient, fun, and a wealth of photographic knowledge. I learned an incredible amount and I have put pictures up from the workshop that have people asking me, "how did you do that?!" Nathaniel did a lot of research of the location and constantly had us in the right place at the right times. I guess the simple way to put it is, it doesn't get any better than this!"
~ Jeremy D. | Arizona, USA
---
"In 2016 I attended an African Safari with Nathaniel, he listens to his clients and goes out of his way to accommodate their special requests.  He is also very helpful in demonstrating his processing workflow and the different types of processing tools he uses. The overall plan for the trip was EXCELLENT!  The accommodation, food, driver/guides could not have been better. I particularly appreciated the long time we spent on each game drive, using our precious time on the trip as much as possible. It was perfect. His choice of where to stay and for how long reflected your experience in the area. The structure gave us the best possible opportunities for photography. We had exceptional opportunities for photographing a variety of animals and amazing action! Cheetah kills, wildebeest and zebras crossing the river with crocodiles lying in wait, lionesses and cheetahs feeding their cubs. Awesome!"
~ Gillian S. | Maryland, USA
---
"I recently returned from an African Migration Safari with Nathaniel Smalley in the Masai Mara. A fantastic trip. My wife and I are still editing madly. We're not wildlife photographers so we found the trip challenging, but learned an amazing amount from Nathaniel. We would highly recommend traveling with him!"
~ Keith P. | Canada
---
An excellent blend of theory, application in the field and fine tuning afterwards with processing workflow, Nathaniel is a very knowlegable instructor. This workshop really added to my photographic experiences, many thanks to Nathaniel. Highly recommended!
~ Matthias K. | Switzerland
---
"We experienced a wonderful safari in Kenya with Nathaniel in 2016. He offered excellent teaching and leadership throughout the trip!"
~ Anne C. | Florida, USA
---
"This was my first African safari and I felt so fortunate to have Nathaniel as our trip leader. He is a patient, knowledgeable, talented, and enthusiastic photographer. I appreciated his on-the-fly advice and his editing tips as well as good humor. He is able to work with all levels of photographers. I look forward to future trips with NOW Tours!"
~ Mindy R. | California, USA
---
"In February I thought about contacting you and thanking you for the way you handled your photo tour group on Lofoten. I don't know if you knew, but we were leading tours there at the same time. Often when two guided groups get on the same beach, it is almost like two football supporter groups of two different teams meet. Shouting at each other where they can and cannot stand. But when our groups were at a location at the same time, it was no problem. You kept your eye on where your participants went and warned them when they walked into a shot before one of us could say anything. So a big thank you for that! Great to see that it can go like that."
~ Floris S. | Norway
---
"I signed up for the Lofoten tour led by Nathaniel on the spur of a moment, it fitted well with my remaining holiday dates at work and I am very pleased that I did. During the trip Nathaniel was great company and took us to most of the iconic locations in Lofoten for both sunrise and sunset shoots as well as Aurora hunting trips when conditions were suitable . The choice and location of the accommodations were great and the whole trip was a pleasure to be part of. My thanks to Nathaniel Smalley for all the hard work and countless hundreds of miles behind the wheel during the week. An excellent trip."
~ Shaun Y. | Great Britain
---
"It was wonderful to explore such a remarkable place as Lofoten on one of Nathaniel's tours. I found him to be a professional, friendly, positive, creative, fun-loving and well-organized tour leader and photographer. I had a great time, learned a lot and made new friends. I highly recommend these tours for anyone with a passion for photographing stunning landscapes. Thanks Nathaniel!"
~ Arwen D. | Tasmania
---
"It was indeed an memorable trip to the northern most part of the world. This was my first trip to Norway and longest stay in a colder climate. On the first night of the tour we were fortunate to see the Aurora Borealis light show, (it had long been my dream to see the lights and capture them). I was so excited and felt like I was in heaven. Nathaniel was always energetic and ready to explore new locations. He was exceptionally adept at multi-tasking, driving, having meals in between, managing accommodations, business emails etc. while also ensuring all participants were comfortable in their rooms, vehicle and of course while shooting. Most importantly what I observed was, on a daily basis Nathaniel managed to be connected to his family and particularly his kids. It was great to have the opportunity to travel with him, I learned a lot."
~ Kiran B. | India
---
"My wife and I had a great time in Iceland and we definitely made the right choice to go with Nathaniel, not only for his insights and photographic knowledge, but also for his kindness and caring about his participants. I will  forever treasure the photographs and life experiences from this Iceland tour!!!"
~ Gene N. | New Jersey, USA
---
"Wow, what a place!! I was delighted to be able to join one of Nathaniel's tours for my first trip to Iceland. We got to photograph a variety of incredible places, including glaciers, waterfalls, geysers and the coastline, in the amazing Arctic light. Nathaniel is a well-organized, fun, creative and professional tour leader whose tours I highly recommend. Thanks Nathaniel!"
~ Arwen D. | Tasmania
---
"Despite challenging weather conditions we had many chances to create beautiful landscape photo during winter tour. It was really good tour, I felt lucky to meet all other lovely members. Nathaniel was really good to us. Thank you again."
~ Keiko S. | Japan
---